ARS NOVA finally able to pay tribute to the victims of COVID-19
The two performances received standing ovations from the audience.
Monday 22nd March 2021 | PRESS RELEASE, translation MIKE SMITH
The 20th edition of the ARS NOVA festival took place over the weekend. Under the title 'In Paradisum', the ARS NOVA choral group paid tribute to the victims of COVID-19. It was a concert that should have taken place a year ago, and then on a further two occasions, but for reason that are well known, they had to be postponed.
Due to the success of past concerts featuring ARS NOVA, this edition took place over the whole weekend, two concerts in which the group performed their own interpretation of Fauré's Requiem and, as expected, those 'house full' notices had to be displayed for both performances as the church of San Bartolomé was filled to the capacity allowed by the current health protocols.
The emotion could be felt everywhere. The concert began with a performance of Cantique de Jean Racine Op.11 and Pavana Op.50 with a captivating melody that prepared the idyllic setting for the performance of Après Un Rêve Op.7, Nº.1 in which the soprano Teresa Albero provided a magical moment accompanied by Sílvia Ferre on piano and Frincisco Pineda on cello.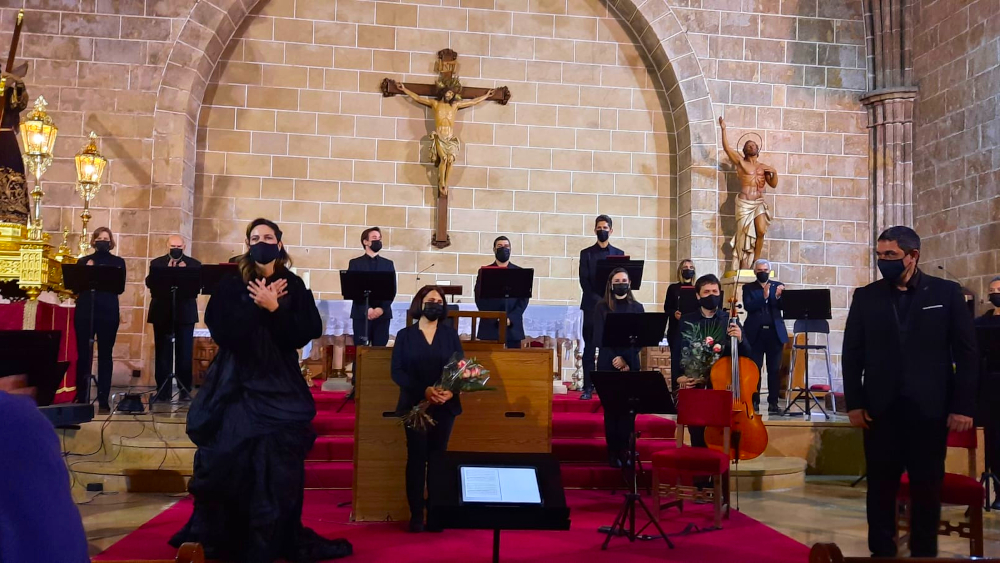 And then, under the baton of guest conductor Pere Vicalet, the Requiem was performed, another magnificent work full of quality and sensitivity by ARS NOVA. Soloists Teresa Albero and Rodrigo Esteves impressed the audience with formidable vocal technique and expressiveness. Albero's interpretations, always extraordinary and charming, showed the audience the high level of the soprano's scale whilst Esteve's voice captivated the audience with an absolute vocal dominance which filled the church with his voice and impressed with the perfection of the melodic lines. It was a real treat to enjoy their voices. The playing of Silvia Ferrer on the organ and Francisco Pineda on the cello was of great complexity and was also truly remarkable.
All this not only moved everyone present, but also made the audience stand up in the two performances, an absolute success. ARS NOVA has wanted to dedicate this Requiem to the victims of COVID-19, and to those who have fought and continue to do so to face the pandemic. In addition, they thanked Xàbia Council, especially the Department of Culture, for its commitment to safe culture, so important in the times we live in.
---
Information Source
Press Release – ARS Nova Xàbia
---