AEMET issues warning for potential for heavy rain and storms on Saturday
The warning comes into effect at 2.00pm on Saturday for the potential for significant downpours and hail storms.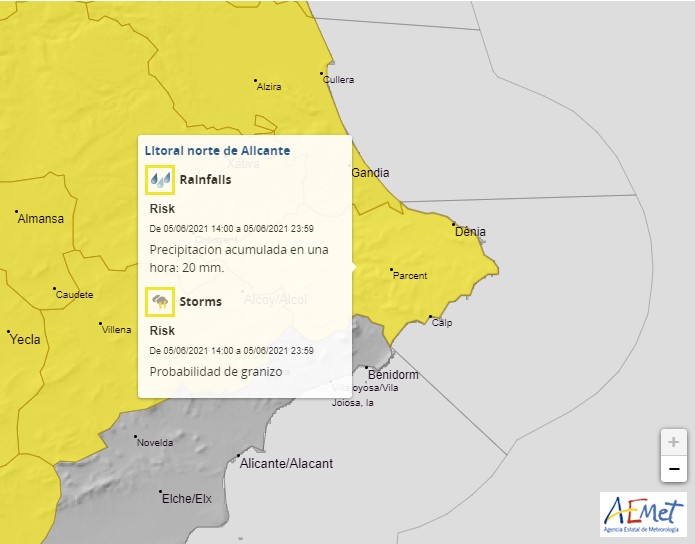 Friday 4th June 2021 – Compiled by MIKE SMITH
---
The state meteorological agency AEMET has issued a YELLOW risk warning for the potential of heavy rain and storms on Saturday 5th June 2021.
The warning comes into effect at 2.00pm on Saturday and will remain in place until at least midnight on the same day. There is a 40%-70% chance of the downpours producing an accumulation rate of 20mm per hour whilst there is the same probability for storms which could cause hail.
Forecast models are suggesting that the downpours and locally strong storms are likely across the entire east/south-east of the Iberian peninsula (except the southern parts of the Alicante province). The conditions make it likely that the storms will affect both the interior and coastal areas, although the most savage storms tend to strike mainly in the mountains. However, the situation is always evolving and there are certain to be several updates over the next 12 hours.
It should be remembered that these warnings are issued for probability, not certainty. They do not mean that they will happen but that there is a good chance that they may do. They are issued because, quite simply, it is better to be prepared than not.
---