AEMET issues warning for heavy rain on Wednesday and Thursday
Potential for heavy rain up to 60mm/hr and heavy seas with waves up to 3 metres which could cause damage along the coast.
The state meteorological agency AEMET has issued a YELLOW risk warning for the potential of heavy rain and stormy seas on Wednesday 4th November and Thursday 5th November as an isolated low passes along the coast of Portugal, dragging damp air off the Mediterranean which could potentially affect zones along the Gulf of Valencia but could also bring persistent rain to the northern regions of the Alicante province.
The warning advises that there is a 40%-70% probability that our region will experience heavy rainfall with possible accumulation rates of up to 60mm in 12 hours at any time from midnight on Tuesday 3rd November to midnight on Thursday 5th November. It could potentially be quite localized with particularly heavy rain in some areas and a weak shower in others.
The same probability exists for the potential for heavy seas with a Force 7 north-easterly wind pushing three metres waves, valid from 8.00pm Wednesday 4th November until 9.00am the following day. These have the potential to cause some damage to beach and promenades.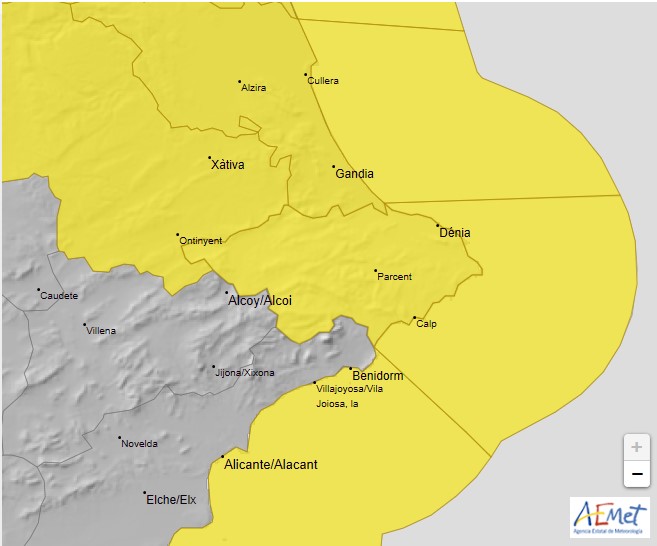 Be prepared!
Our region has not seen much significant rainfall since the end of August and home-owners are recommended to take a walk outside their property and take a look at the roof for missing tiles, the guttering and drains to make sure that they are clear of debris to allow rainwater to funnel away, and all doors and windows for proper seals. In addition, it is recommended that outside furniture, particularly soft furnishings, are brought inside the house, and barbecues, gardening tools, lawn mowers, etc. are stored away.
---
RELATED LINKS:
---