AEMET issues new warning for high temperatures across Spain
The highest temperatures for our region of Spain are expected on Monday.
Thursday 8th July 2021 – Compiled by MIKE SMITH
---
The state meteorological agency AEMET has issued a new warning for the potential for very high temperatures across much of Spain over the weekend.
The statement, issued on Wednesday and of which the fourth paragraph is particularly relevant to our region, reads:
After a general drop in temperatures between yesterday and today, reaching values below normal in most of the country, a sharp rise will begin as of tomorrow due to the stabilization of the atmosphere and the strong solar radiation typical of this time, as well as the entry of air of African origin on Saturday and Sunday, which will mainly affect the southern half [of Spain].

The maximum temperatures will occur on Sunday 11th July in a good part of the Peninsula, except in the eastern third of the peninsula and the Balearic Islands where they will occur on Monday. In principle, the Cantabrian coast and Galicia will be left out of this situation.

Between Saturday and Sunday, 40ºc will be exceeded in large areas of the south of the peninsula and zones in the central area, especially in the Guadalquivir valley, where 44ºc could be exceeded. In these areas the minimum temperatures will also be high, possibly as much as 24ºc in the valleys. It will also be possible to reach or exceed 35ºc in areas of the interior of the northern half [of Spain].

On Monday 12, a marked decrease in temperatures will begin in a large part of the Peninsula, except in the eastern third and in the Balearic Islands, where the warm mass will move, causing a notable or even extraordinary rise in temperatures, which will reach or exceed the 35-40 °c. In areas of the interior of the Levante area, they will reach even higher values, possibly 44ºc.

On Tuesday the 13th, the sharp drop in temperatures will reach all areas, ending this episode of high temperatures.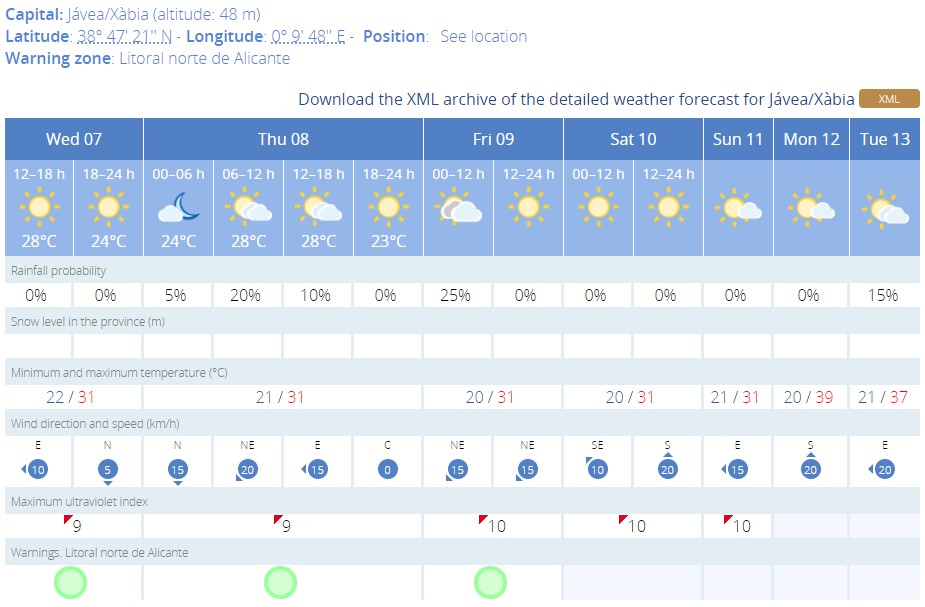 ---