59% believe speed checks in Xàbia are good for the safety of citizens
The reader's poll found that most people supported the use of speed radar equipment.
Monday 7th June 2021 – Compiled by MIKE SMITH
---
javeamigos.com readers took part in a vote on the use of speed radar on the streets of Xàbia after the local police deployed the equipment as part of an awareness campaign coinciding with the change to speed limits in urban area approved by the national government which came into force on Monday 10th May.
Of the 106 people who took part in this first ever javeamigos poll, 59.4% agreed with the use of speed radar, agreeing that it would be good for the safety of the citizens of Xàbia, whilst 39.6% disagreed, that the local police force was only using the equipment to collect money from drivers.
This is almost the total reverse of a similar poll on Xàbia AL DÍA in which 61% considered that the local police was squeezing money from car drivers whilst 35% believed that it was a preventive measure for the safety of both drivers and pedestrians.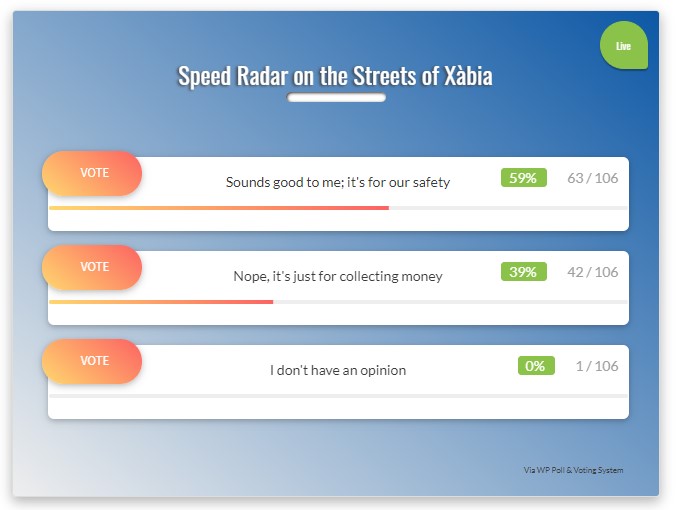 The next poll on which you can vote is on the news that Xàbia Council has decided not to declare any of the town's beaches as being smoke-free. Cast your vote here.
---
---